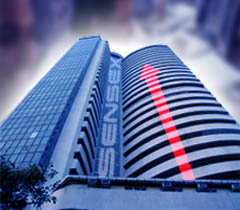 Monday trading has been proved best so far for the investors. In the intra day trading the Sensex
breaching the 19,000-points mark at afternoon trading. This is the first time since January 2008, the Sensex was seen getting 400 points up.
The SBI shares were seen at all time high in the market. It was expected that the food inflation might affect the market but the Monday trading is recorded as the best trading day in the week.
All 13 sectoral indices on the Bombay Stock Exchange (BSE) were in the positive, ET reported.
The ET reported - 2:06 p.m., the 30-share BSE index was up 2.03 percent at 19,180.72 points. The 50-share NSE index was up 2.05 percent at 5,755.70.