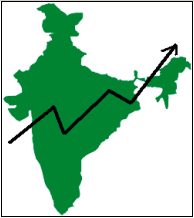 The government of India in its mid-year analysis of Indian economy said that the inflation was a major concern and it would come down to 6 per cent by March 2011. There are also speculations that the GDP may touch the 9 per cent by March 2011.
The outstanding performance of the agriculture and industry sectors has brought the Indian economy in a strong position. Last year amidst the economic crisis the the Index of Industrial Production(IIP) was seen in negative figures.

The Indian economy has successfully over come from the clutches of the global slowdown. The stimulus package to various sectors has made those capable to facing the hard time.

This year the stock market has also hit the all time high of 21k mark and hope the healthy economy will help the investors in their getting good returns from the stock market.