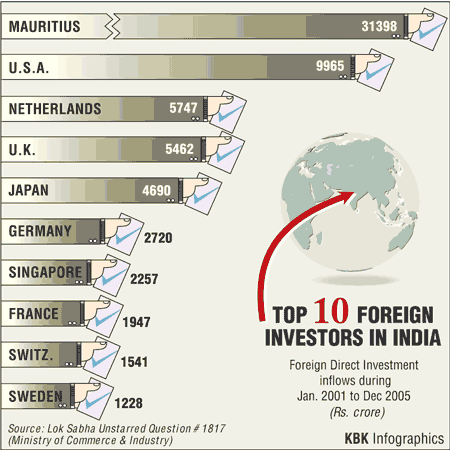 Foreign direct investment in India or FDI in India has been playing vital role in the development of Indian economy. It can be considered as a sharp tool that shapes the Indian market.
Indian has been attracting foreign direct investment for long period. The sectors like telecommunication, construction activities and computer software and hardware have been the major sectors for FDi inflows in India.
As per the Fact Sheet on Foreign Direct Investment (FDI), there was Rs. 6,30,336 crore FDI equity inflows between the period of August 1991 to January 2011.
Top 10 investing FDI investing countries in India are Mauritius, Singapore, U.S.A, UK, Netherlands, Japan, Cyprus, Germany, France and UAE.
According to media reports, the decline tin the FDI inflows would be a major concern for the economy, as the Indian economy is heading to reach the 9 per cent growth rate.
Image source: http://im.rediff.com/money/2006/apr/20fdi.gif