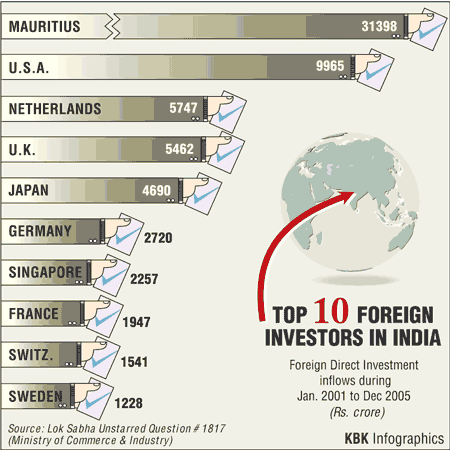 Foreign Direct Investment(FDI) inflow has been increased by around 111 per cent in May 2011 at$4.66 billion. This the largest inflow in a month in last eleven years in India. Still the government is also planning to give some more relaxation the filed for FDI.
The FDI in May 2010 was $2.21 billion. The FDI in the retail is expected to be cleared by the government of India by August this year. This will help to get more FDI in India.
Last year, the FDI flow was low due the global recession and economic slowdown in 2008. The two economies - Indian economy and Chinese economy helped the world to recover from the grip of global slowdown.
The high FDI inflow is also a good indication for the economy but may be wrong signal for some sectors due to the competition. Its good to have some protection for domestic sector but FDI may bring some alternative changes in the economy too.