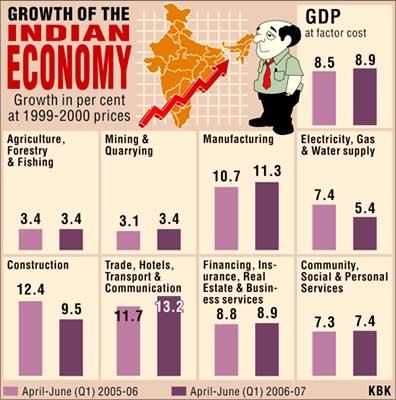 The US investment bank Morgan Stanley has pegged India's GDP growth rate for the current fiscal at 7.2 per cent. The Prime Minister's Economic Advisory Council (PMEAC) has slashed its projection to 8.2 per cent from 9 per cent.

Those projections indicated that there is slow rate of growth or probably India need to be ready for slowdown. Headlines inflation has been at 9 per cent since December 2010, industrial output has been declining and high interest rates are the big factors everybody knows.

What exactly the government is doing to check these? Well, there were assurances that the inflation will come down by December. The debt crisis in US alarms need for urgent cut in government expenditure in India too. We are not ready, if such debt crisis alike US arises in India.

By then, the prime minister Atal Bihari Bajpayee during the NDA rule once projected for double digit growth rate which was countered by Sonia Gandhi citing 'Mungerilal Ki Hasin Sapne (Day dreaming by MungeriLal), hope all remembers this.

In current the monsoon session, the BJP has all the reasons to grill the UPA government over the Indian economy development.

Hope there will not slowdown in India like 2008, as the nation has not good growth rate in order to sustain the blow of economic slowdown again.